We are a family practice office dedicated to helping our patients optimize their health and wellness goals. We treat the whole body through wellness and health maintenance and through correcting hormonal and nutritional imbalances.
Our clinic is fully equipped in providing primary health care for your entire family. We are equipped to handle blood work in office so there's no need to make another stop elsewhere. We also offer personalized, comprehensive programs in bio-identical hormone replacement therapy, and dietary and nutritional counseling designed to meet your health and wellness goals.
You will find our clinic welcoming, efficient and well maintained. We value and respect our patients and strive to accommodate their needs, often with same-day appointments. Our patients consistently commend us on the short wait time (usually 10 minutes or less) and our ability to accept all forms of insurance, predominantly as an in-network provider. Our clinic is conveniently located at 144th and F street. For your convenience, we speak English and Arabic.
Since we are an independent clinic, Dr. Kakish has time for you to explain your concerns and ideal goals. He also has the time to conduct thorough exams and provide necessary treatments. Primary and preventive care is of utmost importance, and the whole family can be cared for by our capable staff. When there are hormonal issues, they can be treated by Dr. Kakish as he is a leading expert in that field. When asked why we are their preferred clinic, our patients tell us they appreciate the convenience, comfort and comprehensive family services provided by our knowledgeable staff at the Omaha Health Clinic.
Dr. Eyad Kakish, MD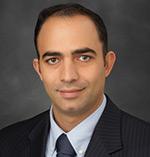 Dr. Eyad Kakish graduated from medical school at the University of Jordan and completed his residency training at Creighton University in Omaha, NE. He is a board-certified family physician and has been practicing medicine for more than 11 years.
Dr. Kakish is a private practice physician with a wide range of skills and experience: family physician, emergency room physician and hospitalist. He is also a member of the American Academy of Anti-Aging Medicine and enrolled in the Fellowship Program that specializes in bio-identical hormone replacement therapy and functional medicine.
He believes in promoting a healthy lifestyle, supporting good nutrition and utilizing hormonal balance to slow the aging process. Using advanced laboratory and physical testing, Dr. Kakish is able to perform a thorough evaluation and provide a specialized program for each patient to achieve and maintain their ideal health through optimal hormone and nutrition balance.