Dr. Eyad Kakish, MD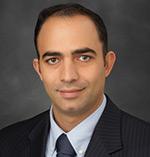 Dr. Eyad Kakish graduated from medical school at the University of Jordan and completed his residency training at Creighton University in Omaha, NE. He is a board-certified family physician and has been practicing medicine for more than 11 years.
Dr. Kakish is a private practice physician with a wide range of skills and experience: family physician, emergency room physician and hospitalist. He is also a member of the American Academy of Anti-Aging Medicine and enrolled in the Fellowship Program that specializes in bio-identical hormone replacement therapy and functional medicine.
He believes in promoting a healthy lifestyle, supporting good nutrition and utilizing hormonal balance to slow the aging process. Using advanced laboratory and physical testing, Dr. Kakish is able to perform a thorough evaluation and provide a specialized program for each patient to achieve and maintain their ideal health through optimal hormone and nutrition balance.